DIESEL AIR COMPRESSOR, SILENCED (750-1,600 CFM)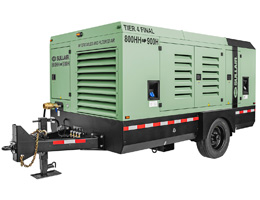 Our Rotary Screw Compressor are ideal for a wide array of jobsites. Featuring Pneumatic Inlet Valve, 0 to 100% Capacity Control, Electronic Engine Control and Two stage Air Filters with Safety Element. Available with aftercoolers.
DIESEL AIR COMPRESSORS, SILENCED (185 - 375 CFM)
These air compressors are quiet, oil flooded screw type compressors. They operate under widely varying climatic conditions and feature water-cooled engines, large capacity oil cooling system and high efficiency heavy-duty two-stage intake filters.